The 2019 NBA offseason not only has had an impact on social media, but also on NFL players. The recent move of Russell Westbrook being traded to the Houston Rockets has had even NFL players talking, Texans WR Deandre Hopkins and Jaguars CB Jalen Ramsey included.
Hopkins recently posted a photo of the trade, welcoming Westbrook to the Rockets.
https://www.instagram.com/p/BzzBHW4F_yr/
Ramsey took notice to the trade acquisition and commented under Hopkins post with this exchange: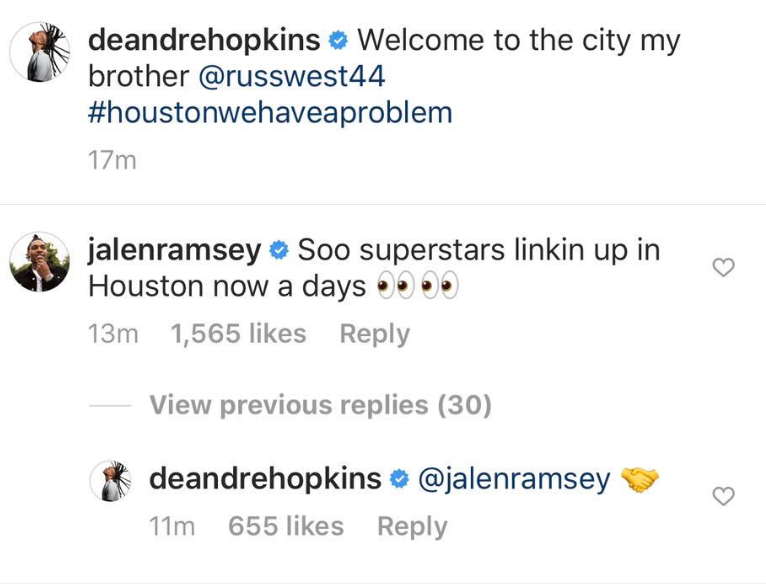 After seeing this exchange, I am jumping to conclusion as a hopeful Texans fan that in 2020, Jalen Ramsey will be a Texan!
Besides playing them twice a season in his 3 year career, Ramsey has had very little history with the Texans. In the 2019 pro bowl, Ramsey caught a TD pass from Texans QB Deshaun Watson. Both Watson and Ramsey have a close relationship as well.
Ramsey is in the last year of his rookie contract, and has already said that he will not receive a contract this season. He has also vocalized that he will not settle for a hometown discount. After not making the playoffs 2 of his 3 seasons in the league, it's a possibility that Ramsey will be leaving for free agency next season.
Ramsey heading for Houston is a big possibility. He has a close relationship with Watson, as well as huge respect for Hopkins. He even claimed Hopkins to be the best WR in the NFL (not that we already didn't know that already).
Jalen Ramsey says DeAndre Hopkins is the best WR in the NFL.pic.twitter.com/DJcEbiwYDe

— NFL Update (@MySportsUpdate) January 23, 2019
It is also well known that the Texans need secondary help, primarly CB. With a large number of cap space, the Texans will be in position to sign Ramsey next season, and Ramsey will more than fill that need for the Texans at CB. He also will be reunited with former Jaguars and current Texans Aaron Colvin and Tashaun Gipson. Besides, playing with J.J. Watt, Jadeveon Clowney, Roby, Reid, and Bernardrick McKinney? Who would want to pass on that defense?
I am calling it now. In the 2020-2021 football season, Jalen Ramsey will be in a Texans uniform. It makes too much sense for him not to be.
Do you agree with me? Where do you think Ramsey will end up? Will he be a Texan next season, remain a Jaguar, or will he be in another uniform? Argue with me if you're brave!